Fish Roes(NO MSG)
"MARUFUJI" ITEMS
"FROZEN" ITEMS
Tobikko is must-try sushi topping when you have sushi. "Tobikko" is flying fish roes. Carefully-selected raw materials are meticulously seasoned at a domestic processing plant.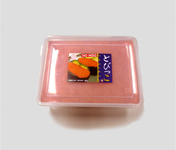 Tobikko (NO MSG) 2/8/500G
MAIN INGREDIENTS : Flying Fish Roes
INGREDIENTS ON THE PACKAGE :Japanese
Comments :
Made from only high quality fish roes. "Tobikko" is flying fish roes.
They have a delightful gloss and rich texture. The crisp taste is suitable for sushi and salad.
Enjoy its special taste coming from good quality of the real materials.